<
JULY 4th WEEKEND SALE...FRI. SAT. & SUN. ONLY!!!
TAKE 15% OFF ALL FURNITURE IN THE STORE
PLUS MANY OF OUR 40 DEALERS ARE GIVING GREAT DISCOUNTS.
DON'T MISS OUT...3 DAYS ONLY.
1876 CENTENNIAL BRASS EAGLE with TIN BACK FLAG HOLDER 40" WINGSPAN

The Hamburg Antique Center is now in it's 12th Year. We would like to thank all of our patrons and dealers for making us one of the top antique centers in the area.
The Hamburg Antique Center is a multi dealer center housed in a circa 1856 historic two story building. We have 40 great dealers filling our 8,000 sq. foot Antique Center with quality antiques and collectibles at affordable prices. We have some of the nicest furniture in the area with 43 years experience buying and selling antiques. Our knowledgable and friendly staff is always there for your assistance. Please click the tabs at the top to view our photo galleries.
LOCATED JUST ONE HOUR WEST OF NEW YORK CITY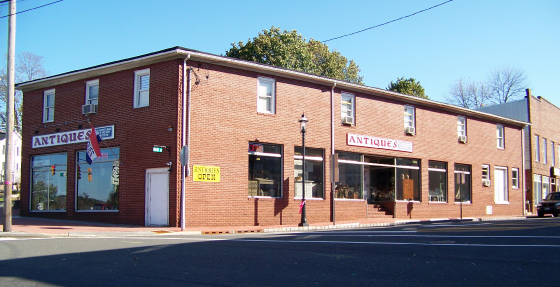 CLIMATE CONTROLLED FOR YOUR YEAR-ROUND SHOPPING COMFORT
Visa, Mastercard & Discover accepted